Problems in Peg Solitaire
Peg Solitaire is played by jumping any peg on the board over an adjacent peg into an empty space, and removing the jumped peg. This collection has forty-seven puzzles which can all be played to a single peg remaining in the center of the board.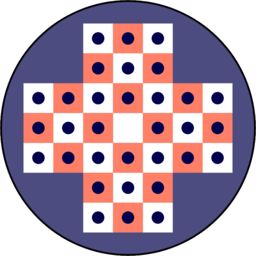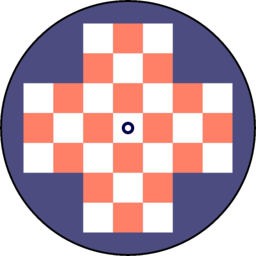 About the Problems
Some of the problems in this collection are drawn from the charming
New Problems in Puzzle-Peg
booklet (copyright 1929) included with the solitaire board I had as a child. Perhaps you had the same one, the one with the professorial owl on the box top. Mine lives in my office now. I modeled the graphics here on that version of the game. Of the remaining problems, some I drew up by hand, and some were computer-generated. The collection aims to be interesting, and well-graded in difficulty, rather than comprehensive. The difficulty ratings are subjective, so take them with a grain of salt.
Further Resources
Peg Solitaire is rich in algebraic, combinatorial, and algorithmic theory. If you want to read more:
George Bell's collection of information about peg solitaire is the ne plus ultra, and his list of references is so extensive that this one is practically redundant. However, it is so comprehensive that it can be overwhelming. You might want to start with one of the following articles instead.